Added values by years of experienceHistory
2020
Start of the COLLIN ACADEMY topic blown film extrusion
Development of fully-automatic all-in-one testing system for pellets & powder
Modification of the ownership structure at NGA GmbH as well as COLLIN and BritAS: Dr. Kastner GmbH takes over the shares of Invest AG
New location for subsidiary in Malaysia as starting point for expansion – company name as NGA Representative Office
Presentation of the Compounder P Series 2.0 with numerous advantages: 25% more performance density!
COLLIN manufactures line for protective film production and produces films for medical sectors
Strengthening of the market position in Asia – 3 new representatives in Vietnam resp. China
2019 - GO4PERFECTION
At the K 2019, COLLIN successfully presents the following solutions:
Highlight modular line – high-precision for sustainability: blown film line with calender as inline-system for extrusion coating, nominal size 600
Teach Line generation 2
Catheter hose line
Multi-Inspection
Press P 300 S
Roll Mill W 110 P
Chill Roll CR 144/144/230 XS with camera inspection
Showcase slot die
COLLIN agents meeting 2019
55 agents from 32 countries >>>




New headquaters in Maitenbeth






Official opening, open house & family afternoon 2019
More than 100 guests from politics, business & Co.
About 900 guests during the open house >>>




2018
Moving into the new company building in Maitenbeth
Topping out ceremony
Successful exhibition appearance at the NPE
2017
Ground-breaking ceremony for the new company building in: 4000 m2 production area, 2300 m2 office area
Fakuma 2017 – presentation of product innovations:
New blown film line with bubble control
Innovative, flexible die for hoses, strands & blown films
2016
Successful appearance at the K – presentation of a variety of innovations:
Cast calender MDO line with a length of 12 m
Turret winder
T Torque Extruder
E Entrance Extruder series
5-layer coextrusion blown film line
Medical Line Extruder E 12
Presentation of the new product line Polytest Line
Multi-Inspection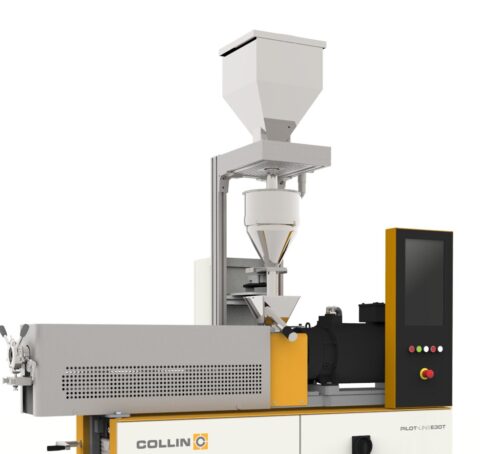 2015
Presentation 'Pressure filter test with autosampler 007' at the NPE
bild
2014
Takeover of Dr. Collin GmbH by NGA Next Generation Analytics GmbH.
Presentation of the autosampler at Fakuma.
2010
Presentation of the mini-compounder series
2009
Presentation of TDO stretching frame &
presentation of the laboratory spinning line
bild
2008
Delivery of the pilot line MDO-600S for monoaxially oriented films and sheets
Certification ISO 9001
2007
First blown film line with turning bar system – rotating blown film die – first calender for optical films with swivelling 3rd roll
Bild
2004
Presentation of the 9-layer feedblock for flat film
2001
Construction of the first monoaxial stretching line with 2-gap system
1998
Presentation of the Teach Line series
1995
First pharmaceutical calender for the production of tablets.
Presentation of the first optical film inspection system.
1994: New building with test hall and laboratory
1993: First co-extrusion line for catheter hoses
1991: First water-cooled blown film line with 7-layer blown film die
1985: First co-extrusion lines
1982: Relocation to Ebersberg in newly built offices and assembly hall
1979: Delivery of the first automated measuring roll mill
1974: Expansion of the production programme by roll mills, presses, single-screw extruders and compounders
1972
Foundation of the sole proprietorship Dr. Collin Systementwicklung
Application for the first patent on modular calender systems
Delivery of the first 3-roll calender