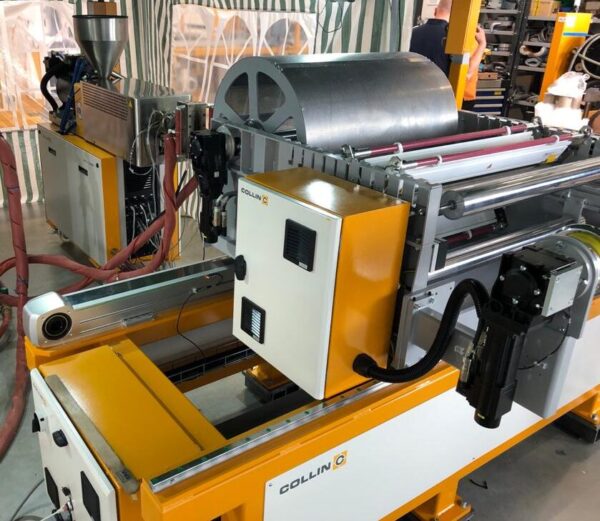 COLLIN presents its first melt blown pilot line for non-woven fabrics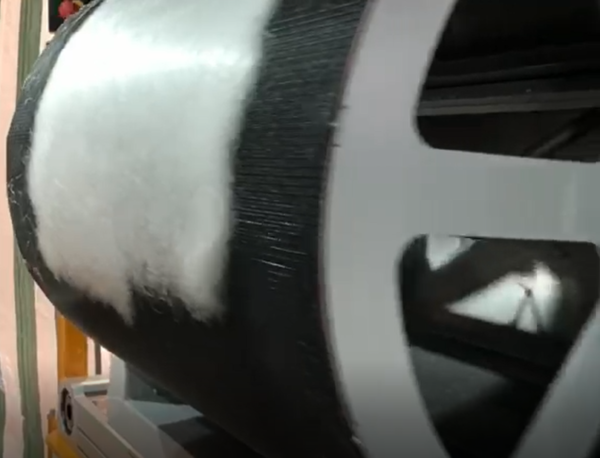 At least since the beginning of the Corona pandemia, our life can't be imagined without protective masks. The most important component of such masks are melt blown non-woven fabrics made of polypropylene (PP). For the development of such and other non-woven fabrics, COLLIN has designed and assembled a line for the laboratory within a very short period of time. This line consists of one approved Extruder E 25 P with spinneret for the production of finest fibres. By a defined high-speed air flow, the material extruded out of the die will be stretched into fine fibres. Then, these fibres are put on a breathable fabric.
Wide non-woven fabric with low energy input
By horizontal oscillation of the die opposite the collector, with a relatively narrow die, also wide webs can be produced. By using a narrow die, the energy required for the operation of the die (compressed air and heating energy) is considerably decreased, compared with wide dies. By using a 200 mm die in oscillating operation for the production of a non-woven fabric with a width of 800 mm, the required heated compressed air is reduced by a factor of 4. Of course, the line can also be used with an existing die. Dies with a width of 200, 400, 600 and 800 mm are available.
Various possibilities for the optimization
Many possibilities are typical for COLLIN, i .e. the possibilities the user has for setting the process parameters at the line. For example, the position of the die to the tray, which essentially influences the quality of the non-woven fabric, can easily be adjusted and optimized. Also extruder, air conditioning and collector can comfortably be adjusted in order to modify the quality of the non-woven fabric quickly.
Modular design and flexibility
For increasing the filter capacity of melt blown non-woven fabrics, a double-sided electrostatic charge is provided. Edge trim with suction of the edge strip or a compacting roll for densifying but also a camera inspection system or thickness measurement system can be integrated. Due to an own die manufacture, material-specific designs are possible. Non-woven fabrics made of PP, PET, PBT and other polymers can be produced. The produced non-woven fabrics can be used for example in protective masks, personal protection equipment, functional clothing, filter applications or insulations.
Please do not hesitate to contact us for any further information.
leer