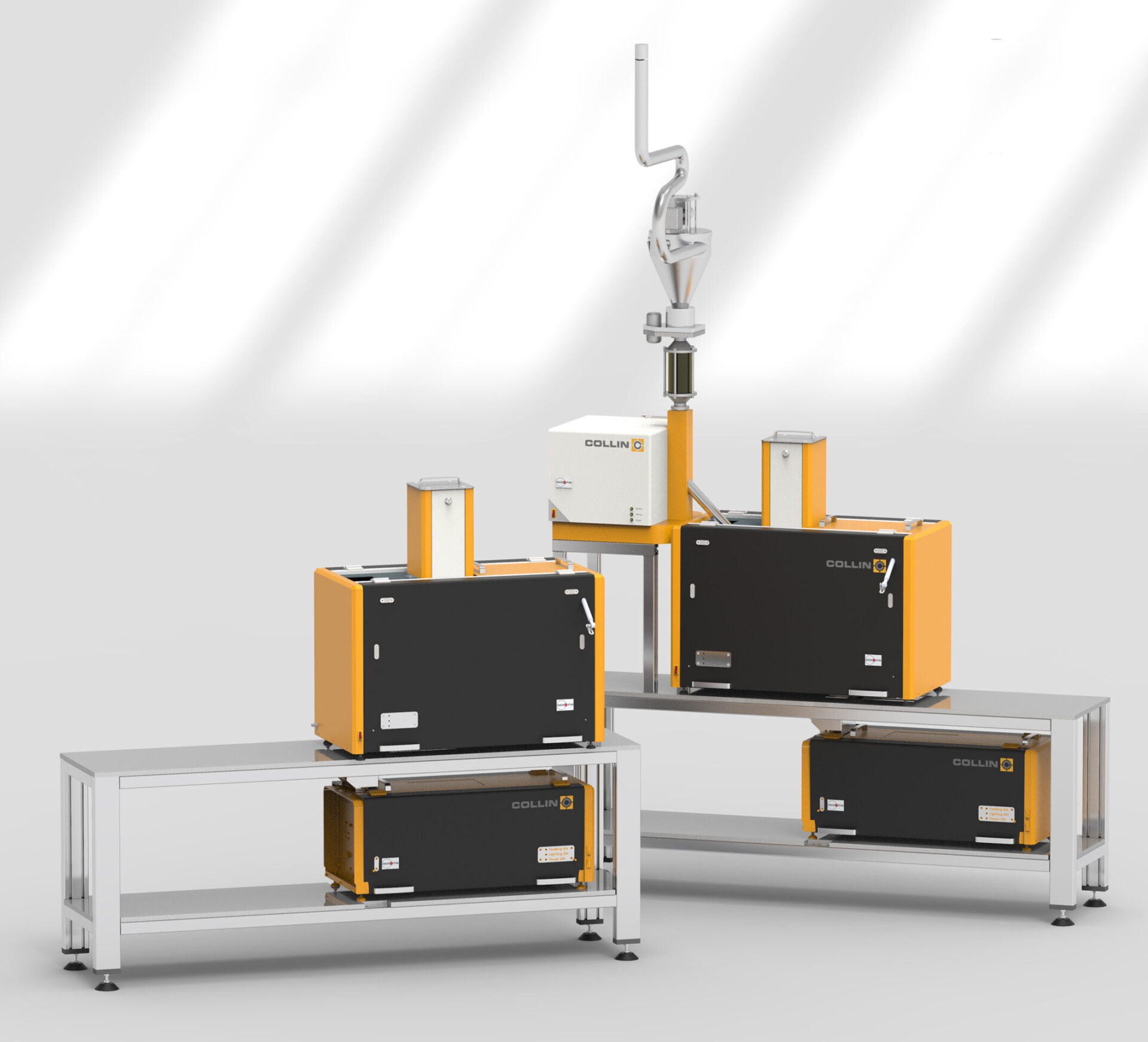 COLLIN product innovation: Fully-automatic all in one test system for granulates & powder:
1 line for checking size, shape, contamination & colour
Compact lines for high throughputs
Stand-alone machines or flexibly extendable to a line
With the latest COLLIN product innovation, the engineering company again shows its competence regarding lines for quality tests. "The advantage for our customers is that the test systems are fully automatic and can measure numerous parameters, either individually as machine or together as line. ", say DI Dr. Friedrich Kastner, CEO / Managing Partner COLLIN Lab & Pilot Solutions GmbH and Corné Verstraten, CSO / Joint Partner COLLIN Lab & Pilot Solutions GmbH.
PGSS Powder Granulates Shape & Size Analyzer – measuring shape & size
In real time, the COLLIN test system PGSS, determines the morphometry of granulates or powder. "That means, shape and size of the objects such as granulates or powder are characterized by quantifiable measured values ", explains Corné Verstraten. "With this procedure, a CMOS camera detects all details. The parameters decisive for the quality can be defined by our customers. "An additional advantage is that these parameters and the measuring values are displayed during the test.
Compact, flexible & modular line – high throughput with 25 kg per hour
Due to its compact design, the test system requires little space and has, like all COLLIN lines a modular design. Therefore, it can easily be extended by the other test lines. With up to 25 kg per hour, the system offers a high test throughput. Each granulate is detected and the generated data is stored in a databank. For this, a sophisticated software is used.
PGC Powder Granulate Contamination Analyzer – testing the contamination
"With the PGC, we determine contaminations and impurities in the tested powder or granulates. The high-end system is equipped with a high-resolution USB 3 CMOS camera and stroboscope LED lighting unit, which exactly determine and display the results. "
CMS Colour Measuring System – fully-automatic colour measurement of polymer granulates
The COLLIN CMS is a fully-automatic, compact and robust system for the colour measurement of polymer granulates – suitable for laboratory and production application. Via a hopper, the CMS collects samples, which have passed a channel with colour spectrometer in order to detect and define the colour spectrum of the granulates.
"By using a so-called bypass system, moreover, the device can be used for material testing in production lines. That means, the granulates are tested during the production process, which results in an increase of quality in time. ", say Verstraten and Dr. Kastner.
Easy handling – testing via bypass during production!
Due to easy handling, the COLLIN test device also guarantees a high test throughput with up to 2 kg powder resp. 25 kg granulates per hour.
Depending on the customer requirement, all COLLIN test devices – the PGSS, the PGC and the CMS – can be used as stand-alone machines or combined as line.