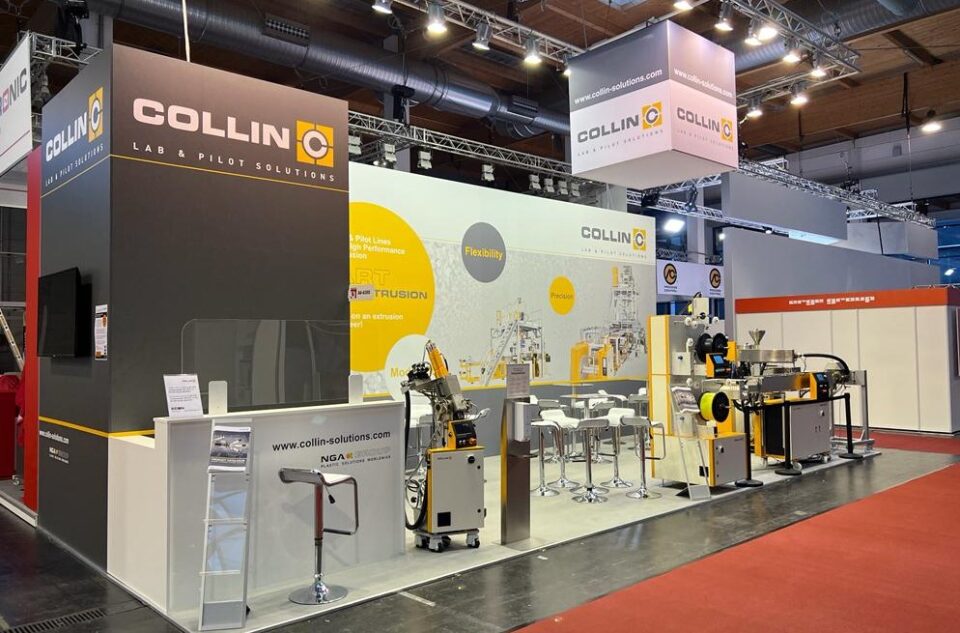 Fakuma 2021, Hall A6, Booth 6305:
COLLIN highlight 3D-filament or tube line with new mono-filament winder & new water bath at the booth
Perfect for the production of high-precision 3D strands or multi-layer tubes
For automobile sector, aviation, medical technology or leisure sector
For the processing of biopolymers, technical as well as high-temperature plastics up to elastic materials
If strands for 3D-print, coverings for tennis rackets, for medical products or aviation – at the booth in Hall 6, COLLIN shows its compact LAB LINE 3D-filament line with new winder and new water bath – however, with a shortened water bath. With this line, high-precision 3D-filaments are produced.
Due to the modular design, the COLLIN 3D-filament, strand and tube lines have the advantage that different machine elements for different requirements can be combined, depending on the respective customer requirement. "For demonstration purposes, during the Fakuma, we have installed a line, which produces a tube with two colour stripes. That emphasizes the various possibilities, for example colour markings for medical applications ", explains DI Dr. Friedrich Kastner, CEO / Managing Partner COLLIN Lab & Pilot Solutions GmbH.
Speed up to 200 m/min & diameter of 0.5 to 4 mm
The filament resp. tube lines of the Bavarian company also convince with a machine speed of up to 200 m/min and a diameter range of the high-precision monofilaments of 0.5 to 4 mm, depending on the line configuration.
"The line at the Fakuma booth includes an extrusion unit with a LAB LINE Extruder E 25 P as well as a height-adjustable TEACH LINE extruder. COLLIN extruders are suitable for various technical polymers, can process high-temperature materials and can be equipped with dosages for one or several components. Furthermore, 3D filaments can also be produced via direct extrusion by using a COLLIN compounder ", says Corné Verstraten, CSO / Joint Partner COLLIN Lab & Pilot Solutions GmbH.
The extrusion unit is followed by a coex strand die, the optimized water bath, the take-off, the diameter measurement and the new filament winder.
Product innovation mono-filament winder – sequential or parallel winding is possible
The new innovative COLLIN filament winder is especially suitable for round strands or small tubes, has a modular design and is thus freely configurable. The strand runs via a filament guidance, then via a dancer system, is traversed and wound. The winding unit has one or two winding positions – two can sequentially or parallelly be operated. For additional winding positions, several filament winders can simply be coupled.
"Depending on the design, our winder offers layer-to-layer winding and cross winding. The advantages of the winder are the compact design, easy accessibility, quick coupling system of the bobbin and thus quick bobbin changes ", explains Dr. Kastner.
Innovation water bath with tempering
After the extrusion, the material strand is cooled and fixed in a water bath. The new COLLIN water bath is available in different configuration levels and is equipped with an optional tempering. "Our water baths are available in different lengths – for horizontal and vertical strand guidance. In order to increase the flexibility for different procedures, several water baths can be arranged successively. "
From aviation to medical technology – various materials processable
3D-filament lines from COLLIN are characterized by their flexibility regarding input as well as strand shape and guarantee highest precision in roundness and constant throughputs, short purging and material changing times.
COLLIN filaments can be used for the additive production process, where a workpiece is produced in layers of thermoplastic plastic or melted metal. Moreover, the procedure is also suitable for the production of other round or flat strands as well as of filaments or tubes.
"With these modular lines, our customers produce filaments or strands made of classic materials such as PP, PE or PVC, technical polymers such as PA, PET, high-temperature plastics such as PEEK or elastic materials as for example TPU or TPE, but also biopolymers such as PLA ", says Corné Verstraten, CSO / Joint Partner COLLIN Lab & Pilot Solutions GmbH.
Industrial customers for example in the automobile sector, aviation or costumers in the medical sector use 3D-applications for design developments, functional prototyping, the production of small batches or for example for prostheses.