NEW NEW NEW NEW
COLLIN TECHNEWS – New trend format for solution strength Focus on: High-Performance Thermoplasts!01.2021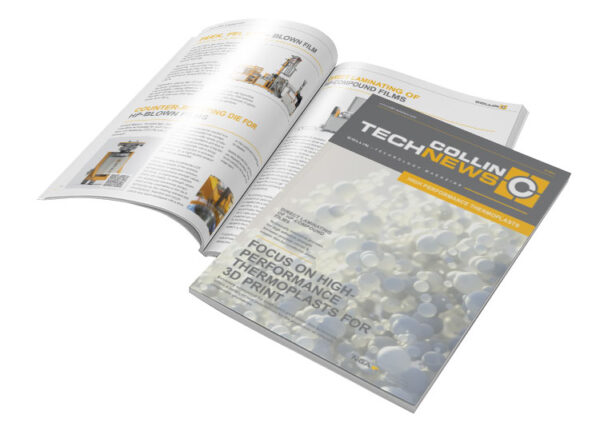 Our new format has released: COLLIN TECHNEWS, a technical magazine for late-breaking market topics.
As worldwide acting extrusion engineering company, COLLIN has a wide product portfolio – but COLLIN is not only machines!
Knowledge and experiences
One of our strengths is the expert knowledge, which has been developing for decades, combined with numerous experiences as well as projects for different customers in different sectors. Our team is characterized by comprehensive, profound competence in process technology. We design complete solutions for our customers and together with our customers.
Trends and solutions
Here, we would like to show our know how in a market-oriented and well-founded way. Our team presents trends and solutions offered by COLLIN.
In this first edition, we deal with the topic high-performance polymers. Whether thermal, electrical, environmental or media-resistant properties, high-performance plastics are very important for special applications – in automotive and aircraft industry, in medical technology and electrical engineering or in chemical processing technology.